The maiden edition of Lagos Shopping Festival 2O15 is set for December 17, 18 and 19 at Tafawa Balewa Square [TBS], Lagos. The theme is: 'Reinventing the Nigerian Economy via Non-oil Export.'
A statement by Prince Cookey, CEO, Lagos Shopping Festival 2O15, says the Festival is a bargain opportunity for shoppers and business opportunity for corporate organisations to showcase their products and services in the December shopping season.
"December is undoubtedly the NO 1 shopping season in Nigeria. The Festival would be a showcase of consumer goods, financial/insurance services, machinery, automobile and food etc. The essence is to provide consumers the unique opportunity of shopping for a wide range of goods and services at bargain prices while enjoying rare combination of music and entertainment at the venue."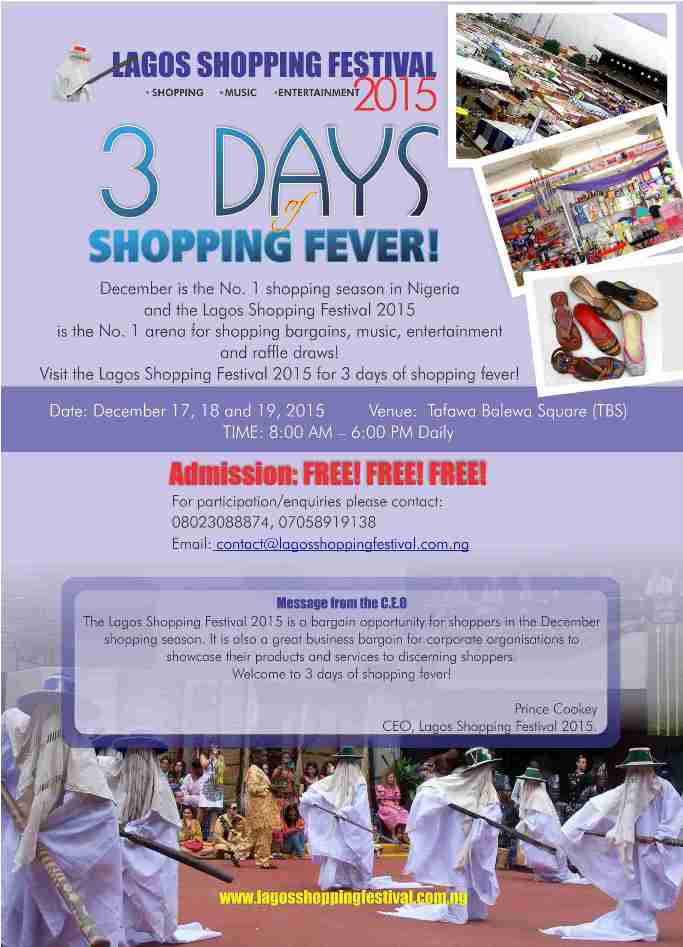 According to him, some of the products and services that would be on display include mobile phones, electronics, cars, consumers goods, banking and insurance services, perfumes, fashion, furniture, e-payment products, Internet data, e-commerce and eateries etc.
Cookey said public organisations can also take advantage of the Festival to educate members of the public on their policies and programmes by creating the needed awareness through flyers, booklets and one-on-one public engagement.
He said the theme of the Festival, "Reinventing the Nigerian Economy via Non-oil Export" aptly captures the current national objective of diversifying the economy away from reliance on oil export. He added that over 1.5 million visitors are projected to visit the Festival in the three-day period while about 35O local and international firms are expected to exhibit at the event.
Cookey said the Lagos Shopping Festival initiative has already elicited tremendous positive response from corporate and public organisations in the country.
He called on consumers and shoppers resident in Lagos and beyond to visit the Festival to shop for various items for the Christmas, end-of-year and New Year festivities.