Niger Insurance Plc
Our Mission Statement
To be a CUSTOMER ORIENTED provider of superior insurance services, using WELL MOTIVATED EMPLOYEES AND TECHNOLOGY, in a conducive working Environment, thereby creating long term VALUE FOR SHAREHOLDERS through sustained return on investment.
Brief History of the Company
Niger Insurance Plc was established in August, 1962 as a specialist life company under the name Yorkshire Insurance Company Ltd. Now a public quoted composite Insurance Company, it operates with an asset in excess of N22 billion and a capital base of over N5 billion with subsidiaries and associated companies.

The Need for Insurance Services
AS A CORPORATE ENTITY…
The devastating effect which a fire can have on a company's assets such as buildings, plant, machinery and equipment…Or have you ever considered the financial consequences of dishonest acts by your employees involving cash, accounting, stocks or stock control?
AS AN INDIVIDUAL…
Life itself involves risks. Since you cannot carry your own alone, get some one to do that with you…or simply transfer your risks
THE SOCIETY…
Disasters, accidents and ugly incidents retard the progress of any society. Insurance covers reduce their consequences.
Our Strategic Plan
Our strategic plan into the future is in the  following direction
    Value added investment  to grow our conglomerate status.
     Development of innovative products in pursuit of our mission statement.
     Strategic alliance with local and multinational partners.
     Continuous re-engineering of our process and up-dating our IT system.
Our Products & Services
LIFE AND PENSIONS
    Personal Pension and Savings
    Deposit Administration Schemes
 Niger Cash Plan
 Social Clubs and Association welfare Insurance
 Inflation Linked Endowment Assurances
 Child Endowment Schemes
GENERAL BUSINESS
  Fire and Allied Perils
  Consequential Loss
  Motor
 Burglary & House Breaking      Group Personal Accident
 Workmen's Compensation
 Money      Goods-in-Transit
 Public Liability
 Professional indemnity
 Fidelity Guarantee
 Marine Cargo
 House Owner/Holders
 Personal Liability
 Product Liability
Boat Travellers Insurance Policy      Travellers Insurance
SPECIAL RISK & MISCELLANEOUS INSURANCE BUSINESS
•    Bonds
•    Oil and Energy
•    Aviation and Marine Hull    •    Engineering
•   Contractors All Risks
Our Vision
    To become the Insurance Company of first choice in Nigeria noted for Transparency, Efficiency and Capacity in providing total financial solutions through un-marched staff productivity and exceptional customer service orientation.
Unity Kapital Assurance Plc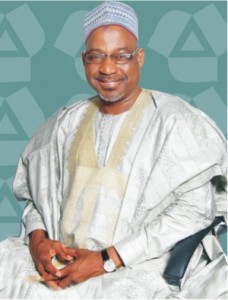 Rising to the top through Strategic initiatives -Vision 3-3 to drive growth.
Competence, and Strength
UnityKapital Assurance Plc is one of Nigeria's major players in the Insurance Sector. With a reputation built on solid Insurance Technical know-how, Ethical and competent business practice, Innovative products and services, and a team of locally and internationally trained  insurance professionals; UnityKapital Assurance Plc is indeed considered one of the foremost insurance firms in the Nation today.
This  reputation is buttressed by the Company's endorsement by the umbrella body of insurance brokers in Nigeria, the Nigerian Corporation of Registered Insurance Brokers (NRCIB), as one of the top-ten insurance companies in Nigeria; based on the seven important criteria of Solvency Margin, Claims administration, Capital base, Human capital development, Geographical spread, Information technology and Corporate social responsibility.
Now, with strategic acquisitions of substantial shares in many players in the risk management field (an NHIS certified HMO, a Pension Fund Administrator, as well as in a composite insurance company Company), it is clear that UnityKapital is on its way to an uncommon renewal. All these are now to be driven by a brand new Vision 3-3, a road map to making UnityKapital one of the top three insurance companies in Nigeria in 3 years.
A long, distinguished history.
UnityKapital Assurance Plc was officially established in 2007, but its pedigree goes farther than that. The initial beginnings of the company was in 1974 when Kapital Insurance company was established, with head office in Kano, Nigeria's city of commerce in the North.
In September of 2005, the Federal Government of Nigeria announced a new consolidation exercise for the Nigerian insurance industry. Through the Federal Ministry of Finance, the Government announced new financial regulations for the Nigerian Insurance Industry, to take effect from 28th February 2007. Under the new figures announced, Life companies are to have N2billion, General Insurance Companies are to have N3billion; and Reinsurance Companies are to have N5billion capital base respectively.
It was in this circumstance that three Companies with many similarities in their corporate philosophy decided to fuse their operations together in a merger that resulted in our UnityKapital Assurance.
These companies were: Intercontinental Assurance Company Limited; Global Commerce and General Assurance Company Limited, and the old Kapital Insurance Company Limited.
It was a merger of these three medium sized companies with a sizeable part of the market in their individual rights that was rebranded in July 2008 to UnityKapital Assurance Plc. The new history of the new Kapital Insurance Company started on 15th March 2007 when the scheme of merger was formally sanctioned by the courts.
The merger was mid-wifed by UNITYBANK PLC who came out with the largest shareholding in the company.
Classes of Business/Our Services
Our principal business is the provision of Insurance underwriting Services. For now, our services are confined to Non Life Insurance services only.
At UnityKapital Assurance, we endeavour to give the best of services at all times. We have many custom made general insurance products that address various risk management needs.
We are licensed to underwrite all Non Life Insurances. This includes ordinary general business, and the high-tech, special risk areas of Oil and Gas Insurance, and various engineering covers.
Our edge is that we not just give the classic risk management solutions products, but we endeavour to understand the peculiar needs of our clients and tailor our existing products to those needs.
These include:
1. Oil and Energy    2. Bonds
3. Marine and Aviation
4. Contractors' All Risks
5. Fire and Special Perils
6. Erection All Risk
7. Machinery Breakdown
8. Electronic Equipment Insurance
9. Burglary/Housebreaking (Homes & Offices)
10. Workmen's Compensation
11. Group Personal Accident
12. Personal Accident
13. Professional Indemnity
14. Fidelity Guarantee
15. Plant All Risks
16. All Risks
17. Money Insurance
18. Public/Product Liability
19. Motor Insurance of various types.
20. Consequential Loss
21. Travel insurance-
Consolidated Hallmark Insurance Plc: Making Strides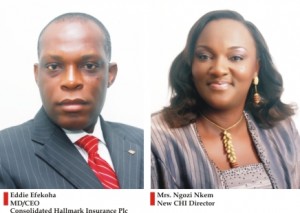 * Change of Head Office
Foremost Nigerian insurer, Consolidated Hallmark Insurance Plc has continued to make commendable moves geared towards a better operating environment for all- clients, staff and the general public inclusive. The company recently relocated its head office from 33D, Bishop Aboyade Cole Street, Victoria Island to their own building which is more spacious and centrally located office at No 266, Ikorodu Road, Obanikoro Lagos.
However, regular operations of the Energy & Special Risks as well as the Lekki/Victoria Island Business Units continue at the former head office location in Victoria Island, Lagos.
* New Website Unveiled
In a bid to ensure a better platform for easy accessibility by both prospective clients and existing clients, the company has unveiled a redesigned website. The new site which has a portal for electronic transactions now make smart card enabled payments possible.
It also provides a link for direct self help processing of insurance, especially the compulsory third party cover for motor vehicles. The company is renowned to have pioneered the on-line generation of the motor insurance certificate by clients who have been effecting payment with their interswitch enabled cards from a dedicated website www.motorthirdpartyonline.com
* Company Steps Up CSR Activities
The company, in addition to its continued efforts at ameliorating the living conditions of motherless babies at the Lekki Orphanage Home through regular donations of provisions and food items has recently extended the scope of Corporate Social Responsibility to the University of Calabar.
Recently, a borehole sponsored by Consolidated Hallmark Insurance was commissioned on behalf of the company by the Vice Chancellor, Professor James Epoke.
The event coincided with the presentation of claims settlement cheques to families of three students who were involved in motor accidents.
Regional Director, East of the company, Mrs. Ijeoma Okoro, who represented the Managing Director, Mr. Eddie Efekoha said the company had the privilege to be part of the institution's Group Personal Accident Insurance policy that covers students of Centre for Educational Services.
The vice-chancellor commended the company for the claims settlement, a development which negates the erroneous impression of people that insurers renege on their responsibilities to clients when claims occur.
* New Director Comes on Board
A new director has joined the board of directors of Consolidated Hallmark Insurance Plc. She is Mrs Ngozi Nkem. She is a graduate of Banking & Finance from Abia State University. She worked as a banker for many years and currently manages Zopon Nigeria Ltd, a general merchant company, engaged in the import, export and supply of goods and services as well as in the downstream oil & gas distribution.
She is also a Director in the following companies: Transglobe Securities Nigeria Ltd, Zopon Nigeria Ltd, Binez Hotel Ltd and Abia State Hotels Ltd. Mrs. Nkem is married with children.
Goldlink Insurance Plc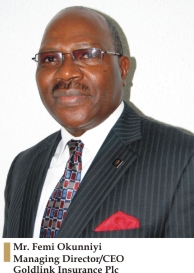 HISTORY OF GOLDLINK INSURANCE PLC
Goldlink Insurance Plc was incorporated on 15th April, 1992 as a Private Limited Liability Company, granted licence to operate as a full-fledged insurance company on 8th September, 1993. Goldlink was incorporated with an authorised share capital of N10million with fully paid-up capital of N10million. In readiness for listing on the Nigerian Stock Exchange (NSE), Goldlink converted to a Public Liability Company on 11th May, 2007 and was listed on the NSE by way of introduction on 12th February, 2008.
Goldlink has its head office at 6, Emmanuel Street, Maryland, Lagos State with 15 branches across the country. It is owned by Nigerians and is licensed to underwrite both Life and General Business as stated comprehensively below. Goldlink has grown tremendously both in customer base as well as in its knowledge and skills on current trends and emerging innovations bringing it to a leadership position in the Insurance Industry.
Our company has been able to stand out in the industry as a result of its dogged commitment to prompt claims settlement. Also, we are at the fore front of introducing new innovative products into the market for the consumption of the insuring publics.
Goldlink's attitude to Corporate Governance is excellent. Our Board and management always ensure the company is in compliance with all rules and regulations of relevant authorities.
PROFILE OF THE MD/CEO  MR. FEMI OKUNNIYI
Okunniyi is a graduate of Business Administration and Management from Yaba College of Technology. He has over 36 years of experience in the insurance industry covering General Underwriting and claims. Okunniyi started his Insurance career with Phoenix of Nigeria Assurance Plc and later joined Veritas Insurance Limited. Where he was in charge of the Technical Operations. He is aFellow of both Chartered Insurance Institute of London and Nigeria; a member of Nigerian Institute of Management; Chartered Management Institute, London; as well as Chartered Institute of Arbitrator..
Mr. Okunniyi, a legal practitioner, also obtained his Master Degree in Business Administration from the University of Lagos.