Emphasising long-term focus on Public-Private Partnerships in the Energy Sector.
Lagos, Nigeria: Tuesday 9th February 2016 – Siemens, one of the world's largest producers of energy-efficient, resource-saving technologies, today hosted its inaugural Forum for Power and Gas Customers in Nigeria.
The objectives of the forum were to:
Emphasize Siemens' long term focus on Public-Private Partnerships for the development of Independent Power Plants (IPPs) and provision of its associated services for such development to Siemens customers
Promote Siemens' in-country service capabilities in the Oil and Gas, Utilities and Manufacturing Sectors
Explore sector growth through delivery of turnkey captive/Embedded Distributed Generation and LGT Power Plant solutions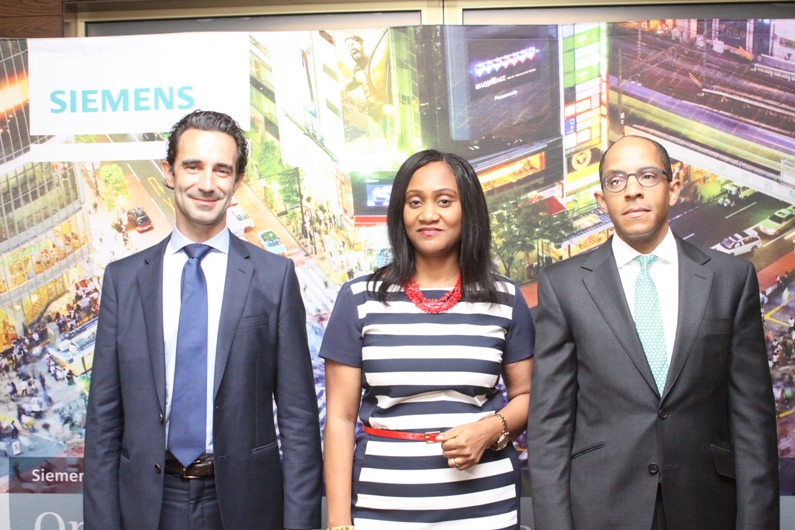 Speakers at the Forum included: Mrs. Onyeche Tifase, the Managing Director /Chief Executive Officer, Siemens Nigeria; Mr. Andreas Pistauer, Senior Vice President Sales (Africa), Siemens AG; Dr. David Ladipo, Chief Executive Officer, Azura Power; Mr. Nasir Giwa, General Manager – Power and Gas, Siemens Nigeria; Mr. Tobias Behringer, Head of Department – Financing, Advising and Structuring, Siemens AG and Mr. Daniel Taylor, Head of Service, Siemens Nigeria.
In her welcome address, Mrs. Tifase stated "Siemens has successfully delivered solutions for power generation, transmission and distribution for over 160 years across more than 190 countries. Our main objective here today is to determine how these solutions can be adapted to our peculiar situation here in Nigeria. Given our 45 year history in Nigeria, most of you here know us well already.
We will however use this opportunity to reintroduce and highlight core aspects of our portfolio that distinguish Siemens with regards to our capability to provide efficient and competitive solutions through leading edge electrification, project financing and service capabilities and technology."
Siemens strongly supports local content with a focus on closer customer repositioning, first response, after sales support, project financing and Corporate Social Responsibility (CSR). Speaking on this, Mr. Andreas Pistauer, Senior Vice President Sales (Africa), Siemens AG stated "We want to extend, build and have partnerships with Nigeria and are here to promote innovation through our local footprint.
Our Port Harcourt One-Service Centre is a key example of how we are investing in delivering high-end after-sales services to clients using local staff, modern facilities and advanced equipment."
Dr David Ladipo, CEO Azura Power West Africa Ltd, gave an overview on the ground-breaking Azura-Edo Independent Power Project (IPP) and Siemens' roles as both a long-term Engineering Procurement and Construction (EPC) partner and financial contributor through the Siemens Financial Solutions (SFS) division.
The Azura project is a 459MW open cycle gas turbine power station being developed near Benin City in Edo State and represents the first phase of a 1,500MW power plant facility targeted to come on stream in 2018. Dr. Ladipo, spoke on the journey so far; commending Siemens' patience, innovation, appetite for risk and long-term focus. There was also additional commentary from Standard Chartered Bank – the project's Global Mandated Lead Arranger – on the uniqueness of the financial transaction.
During his presentation titled 'Siemens Financial Solution for Power and Gas', Mr. Tobias Behringer, stated that "Building on the strength of our balance sheet, we provide financial solutions for Siemens' projects and products, open the way for new business ideas and signal confidence to the markets through long-term risk participation".
The solutions cover an analysis of all aspects and risks related to project finance, review of the financial viability of projects, coordination and negotiations with all project participants and design of financing-relevant components in the supplier agreement.
The event – which will hold annually – was well attended by a cross-section of key stakeholders, decision makers and partners to Siemens in the Power and Gas sector.
About Siemens
Siemens AG (Berlin and Munich) is a global technology powerhouse that has stood for engineering excellence, innovation, quality, reliability and internationality for more than 165 years.
The company is active in more than 200 countries, focusing on the areas of electrification, automation and digitalization.
One of the world's largest producers of energy-efficient, resource-saving technologies, Siemens is No. 1 in offshore wind turbine construction, a leading supplier of gas and steam turbines for power generation, a major provider of power transmission solutions and a pioneer in infrastructure solutions as well as automation, drive and software solutions for industry.
The company is also a leading provider of medical imaging equipment – such as computed tomography and magnetic resonance imaging systems – and a leader in laboratory diagnostics as well as clinical IT.
In fiscal 2015, which ended on September 30, 2015, Siemens generated revenue of €75.6 billion and net income of €7.4 billion. At the end of September 2015, the company had around 348,000 employees worldwide. Further information is available on the Internet at www.siemens.com