"…the interest of NEXIM Bank in Shea Nut processing for export was borne out of the very high demand for Shea Butter with the impressive potentials for foreign exchange revenue stream as well as massive job creation at various levels of its value chain." – Bashir Wali
The House of Representatives' Committee on Banking & Currency led by its Chairman, Honourable Sir Jones Chukwudi Onyereri visited the Ladgroup Limited as part of their 'Oversight Functions' to Ladgroup Limited in Ikenne, Ogun State.
Ladgroup is the foremost indigenous Nigerian conglomerate with a state of the art Oil Mill Extraction factory, which is the largest Shea Nut processing factory in Africa, with an intake capacity of 40,000 Metric tons per annum.
The factory is dedicated to sourcing of Shea Nuts and processing them into Shea Butter of the highest quality, for sale to both domestic and export markets, but with a special bias for the export market. The firm has set its target on major European importing companies in the Confectionary/ Chocolate industry and Cosmetics/ Pharmaceutical industry based in Netherlands, Denmark, Sweden and the UK that import well over 95,000 MT annually.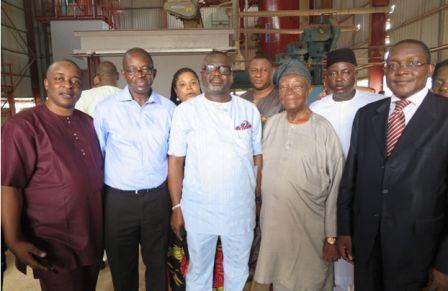 Commending the NEXIM Bank for its relentless contribution to the Nigerian non-oil export sector, especially in funding factories such as Ladgroup Limited, Hon. Sir Jones Onyereri stated that "…the current economic recession facing the country has opened our eyes to the immense opportunities and abundant blessings God has heaped on Nigeria, not just in oil and gas, but more especially in agriculture and solid minerals…." 
He called on the Federal Government to increase funding support to institutions like NEXIM Bank, promising that the House Committee on Banking and Currency, which he is the Chairman, would continue doing all within its jurisdiction and mandate to ensure that such funds are applied very judiciously.
The Acting MD/CEO, Mr. Bashir Wali said NEXIM Bank had in March 2015 approved the sum of $5,786,163.00 (Five million, seven hundred and eighty six thousand, one hundred and sixty three US Dollars) only to Ladgroup Limited to set up a Shea Nut Processing factory. The facility was made up of Equipment Finance of $2,786,163.00 and Working Capital Facility of $3,000,000.00 and has enabled the Company to purchase and install a Shea Butter Refining Unit, a step down transformer and augment its working capital base.
Addressing the occasion, Wali stated that "…the interest of NEXIM Bank in Shea Nut processing for export, was borne out of the very high demand for Shea Butter with the impressive potentials for foreign exchange revenue stream as well as massive job creation at various levels of its value chain." 
Citing available statistics, Wali said that nearly 2 billion Shea trees grow naturally on parklands in 21 African countries stretching from Senegal to South Sudan with more than 16,000,000 women living in rural communities individually collecting the fresh fruits and the kernel which they process to extract a healthy vegetable oil known as "Shea Butter." With approximately 600,000 tons collected each year, the industry provides a critical source of jobs and incomes to millions of often poor and underserved communities.
Responding to concerns on the viability of the Bank's intervention, Wali stated that the global demand for Shea Butter is worth about $10billion and is projected to be more than $30billion by 2020, hence the interest of NEXIM in providing funding for increased proactive measures to reposition agricultural products such as Shea as part of its non-oil export sector interventions in the agro-processing sub-sector. According to him, it has been estimated that over 680,000 metric tons of Shea Nuts are produced annually in West Africa, with about 56% of the Nuts exported, while the remaining is consumed locally. Available data shows that Nigeria is the world largest producer of Shea with the wildly grown Shea trees predominant in 21 states across the country.
This accounts for over 53 percent (or 370,000 MT) of the production in West Africa as confirmed by the reports of the Central Bank of Nigeria (CBN) and Oil Seeds Association of Nigeria (OSAN). Sadly, nearly N345 million is lost in the smuggling of Shea products out of the country every year.
The Chairman, Prince (Dr.) B. A. Onafowokan, expressed immense appreciation to NEXIM Bank for the quality of loan given to Ladgroup Ltd; and also thanked the House Committee on Banking & Currency for their 'Oversight Function' stating that more of such activities is required to curtail misapplication of such funds provided by the Government to assist local entrepreneurs keen on manufacturing for export.
According to him, "…Ladgroup's relationship with NEXIM Bank has been very cordial from the onset; and the level of professionalism displayed by the Bank and its staff in disbursing the loan underscores its commitment to contributing to Government's effort in diversifying the revenue base, especially through promotion of export-oriented investments in the non-oil sectors." Continuing, he indicated that the Company will create at least 300 direct jobs and more than 600 indirect jobs; and earn USD5million in the first year, and USD100million in the next 5 years. He disclosed that in addition to its traditional uses such as cosmetics, soap, moisturizer, oil, wax, ointments and candles, Shea Butter is commonly used in the production of Cocoa Butter equivalents or improvers; and up to 5% content by weight is allowed under EU regulations in chocolate, other confectionaries and margarine, creating even larger international markets for Shea products.
Besides the Ladgroup Limited, NEXIM Bank has also provided working capital for Shea Butter processing to Karite Oil Limited (formerly Fagow Oil & Gas Nigeria Limited) in Akure, Ondo State. The Company has a 20-22MT Shea Butter processing plant.
About NEXIM Bank – 
The Nigerian Export-Import Bank was established by Act 38 of 1991 as an Export Credit Agency with the broad mandate of promoting the diversification of the Nigerian economy and deepening the external sector, particularly the non-oil export sector through the provision of credit facilities in both local and foreign currencies; risk-bearing facilities through export credit guarantee & export credit insurance as well as business development and financial advisory services etc.
In pursuit of its mandate of promoting export diversification and deepening the non-oil export sector, the Bank's current strategic initiatives are targeted towards boosting employment creation and foreign exchange earnings in the Manufacturing, Agro-processing, Solid Minerals and Services (Tourism, Transportation and Entertainment) sectors.  NEXIM Bank embraces the exchange of information on best practices in trade and project finance as an important value addition to its operations.