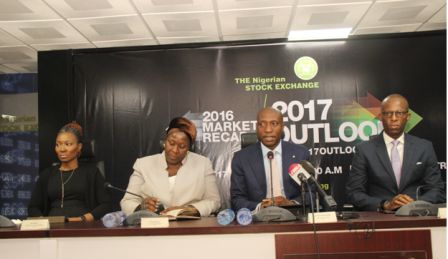 Global Economic Outlook Global economic growth is projected to reach 3.4% in 2017 according to the IMF, while Goldman Sachs's chief economist puts this estimate at a range of 3.0% to 3.5%. Accordingly, all estimates suggest that there will be positive global growth in 2017.
From the NSE's perspective, we believe there are specific factors that will determine the pace of global economic activity in the coming year.
These include: 1) political developments in the West under the emerging "new world order", as populist sentiment towards nationalism and protectionist economic policies take effect on global trade and immigration; 2) pace of global fiscal and monetary policy implementation; 3) oil price averaging $55 per barrel as forecasted by the World Bank following the decision of OPEC to limit output and a subsequent improvement in the outlook for commodity exporters; and 4) continued growth in Asia's largest economies (i.e. China, India, Japan, etc.) and recovery of other emerging and developing economies (i.e. SSA).
Nigeria is expected to recover from its recession in 2017 with a modest GDP growth forecast of 0.6%9 driven by: i) vigor of fiscal policy implementation, with a keen focus on articulation of desired goals; ii) lower rates of disruptions to oil infrastructure from resolution of the Niger Delta conflict, thereby increasing FX inflows; iii) crude oil prices remaining above the FGN's benchmark of $42.5/barrel; iv) positive impact of the war against corruption manifested in ease of doing business improvement; and v) policies aimed at boosting economic productivity (ex: improved budgetary allocation to capital expenditures, exit from JV Cash Call arrangements with IOCs by the FGN, which is expected to save the country $2bn annually, etc.).
Notwithstanding the forgoing, the Nigerian capital market will have to do a better job at promoting its unique value proposition to both global and domestic investors. Monetary policy will continue to play a vital role in determining activity in the market.
With forecasts for inflation expected to moderate due to the base effect, we believe that all things equal, monetary authorities will have more flexibility with respect to interest rates and FX regime. Hence good coordination between fiscal and monetary policy should result in resolution of aforementioned structural deficiencies and drive economic growth.
We expect investors to continue to keep a close eye on the divergence between the interbank FX rate and other exchange rates in the country.
Accordingly, a convergence of FX rates in the country and the performance of listed corporates will determine the level of market activity in the short term.
NSE Strategic Outlook Cognizant of the ever evolving economic realities on ground, the NSE will take an adaptive approach to strategy execution in 2017. In the immediate future, the NSE will focus on achieving its goal of becoming a more agile and demutualized exchange and will fast track efforts towards developing innovative products such as exchange traded derivatives to provide investors with tools to better weather economic realities in 2017.
We intend to strengthen our thought leadership efforts with policymakers to drive policies that will free up the system and promote the ease of doing business in Nigeria. We believe that i) incentive schemes for sectors of the economy that can support a pivot to export led economy will be beneficial, and ii) systematic removal of impediments to doing business and therefore reduction of leakages will attract private sector investments.
From a capital market liquidity standpoint, we will enhance our cross-border integration efforts via African Securities Exchange Association's (ASEA) African Exchange Linkage Project (AELP) model and the West African Capital Market Integration (WACMI) program.
We will also continue our engagement efforts with the Government to promote the listing of privatized state owned entities (SOEs), as well as engage with the Private sector issuers for listings across all of our product categories.
We anticipate that secondary market activity will be challenged initially as the impact of various policy measures work their way through the system. However, we expect to see a revival of supplementary listings, return of the new issuance market, and potentially one IPO since the equity market is a forward indicator of the economy.
We are cautiously optimistic, as consensus estimates suggest a moderate recovery for Nigeria in 2017, provided that policy makers implement the right combination of policy measures.