Leadway Assurance Company Limited; Leadway Pensure PFA and Pinewood Medicare have signed a partnership agreement with 13 recognised affiliates of the Nollywood Creative Sector Industry for the provision of an insurance scheme, tagged NollyHealth Insured, for their members.
The Memorandum of Understanding (MoU) was signed on Thursday, July 13, 2017, at the NAN Media Centre, National Theatre Complex in Iganmu, Lagos, Nigeria.
Under the partnership, registered members of the following bodies in the Nigerian creative industry – Association of Motion Picture Entertainment Editors of Nigeria (AMPEEN); Creative Designers' Guild of Nigeria (CDGN); Cinematographers' Society of Nigeria (CSN); Directors Guild of Nigeria (DGN); Film & Video Producers' and Marketers' Association of Nigeria (FVPMAN); Independent Television Producers Association (ITPAN); Motion Picture Practitioners Association of Nigeria (MOPPAN); National Association of Nigerian Theatre Arts Practitioners (NANTAP); Screenwriters' Guild of Nigeria (SWGN); Theatre Arts and Motion Pictures Producers Association of Nigeria (TAMPAN) and United Movie Practitioners' Association of Nigeria (UMPAN) will enjoy a unified general insurance, healthcare, pension coverage and other listed benefits.
On its part, Leadway Assurance Company Limited will provide a life/general insurance policy for practitioners covering the following: Group Personal Accident Insurance which provides compensation to members/affiliates of the group in the event of accidental bodily injury to the insured person(s) that may result to death or disablement; Group Life Cover for the beneficiary of a member who passes away while in Service and Business Protection Insurance (Creative Art Production Insurance) under which is  Cast & Crew Insurance, Fire & Burglary on Directors & Crew's Personal Property, Miscellaneous Equipment (All Risks), Public liability insurance and Theft or Loss of money on a filming location.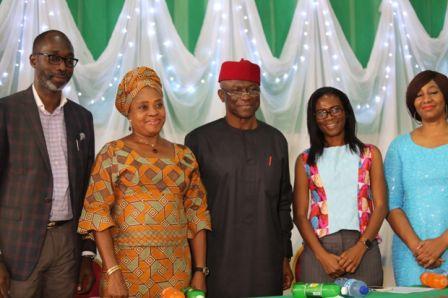 On the other hand, its subsidiary company Leadway Pensure PFA would cater for the pension funds of members, while Pinewood Medicare HMO would serve as a healthcare service provider for the members of the aforementioned interest groups operating within the Nollywood ecosystem.
Speaking at the event, Executive Director, Leadway Assurance Company Limited, Ms. Adetola Adegbayi, stated that: "Nollywood as at 2014 contributed to the tune of $6.6bn for the Nigerian GDP, and sadly there are situations where practitioners are forced out of how they make their living due to accidents and medical emergencies. We felt it was important that we provided reliable solutions to the problem and ensure we do our best to bridge the gaps that exist.
"This is why we have come together to create a platform that covers the basic needs of practitioners. The NollyInsured Scheme will cover group personal accidents, pension's savings and group life insurance which is like leaving a legacy behind for families. This three-pronged approach will cover practitioners from a basic level."
Speaking on the need to save for retirement, the Executive Director, Sales & Marketing Olusakin Labeodan stressed the need for the creative industry to key into the contributory pension scheme. He said there cannot be a better time to take on the scheme, especially considering how well the industry has done. He noted that the Nollyinsured initiative and MOU signing are a clear indication of good things to come
In his remarks, the President, Directors' Guild of Nigeria (DGN), Mr. Fred Amata, who spoke on behalf of the creative industry said: "This is the first collective effort of the creative sector to seize the opportunity of the persuasive power of unified numbers in negotiating an advantage for the benefit of the larger sector. NollyInsured is a progressively inclusive initiative."
Also commenting, MD/CEO Pinewood Medicare, Dr. Olasimbo Davidson stated: "The Nolly-care program is designed firstly to end healthcare inequalities that pertain to income differences, and secondly to end preventable deaths which often stem from high healthcare costs. Lastly the Nolly-care Program aims to significantly reduce poor health outcomes which are typically linked to low access to high end specialists and sub- specialist".
The Minister of Information and Culture, Lai Mohammed, who was represented by the Managing Director, Nigerian Film Corporation, Dr. Chidia Maduekwe, assured Nollywood stakeholders of the Federal Government's continual support towards the development of Nollywood insurance scheme which provides favourable healthcare conditions for practitioners.
Furthermore, Dr. Madueke said that the insurance scheme could not have come at a better time, especially in the face of the urgent medical challenges that has faced members of the film industry and that there was the urgent need for both stakeholders to discuss health insurance and health issues pertaining to Nollywood members.
Commending the scheme, Hon. Adebimpe Akinsola, Special Adviser and Acting Commisioner, Ministry of Tourism, Arts & Culture represented by Director Admin & Human Resources, Ministry of Tourism & Culture, Mrs Olubisola Olunloyo, said she is convinced that the accomplishment is worthy of emulation and that the numerous medical and economic advantages streaming from the initiative will further heighten the excellence of Lagos State.