The story of Emirates is no less fascinating each time it's told – and it has been, many times around the world. Dubai's quest to have its own international airline, the cheque for 10 million US dollars from Sheikh Mohammed bin Rashid Al Maktoum, the two leased aircraft and the small team that established an airline of the highest order.
Many still marvel at what Emirates has achieved in 26 years, since the first flight to Karachi took off on October 25th, 1985 from a relatively rudimentary Dubai airport. Under the chairmanship of HH Sheikh Ahmed bin Saeed Al-Maktoum, it is a story of collective wisdom, forensic planning and the boldness to create an airline that would help create an inspiring modern city, snatched from the desert. The growth of Dubai and Emirates went hand in hand and they still do to this day.

With a fleet of 164 modern, wide-bodied aircraft, and a new plane arriving roughly every four weeks, the airline currently flies to 116 destinations in six continents, from its international hub of Dubai. Emirates' standing is so much more than an airline. The company has evolved into a travel and tourism operation on a colossal scale, straddling numerous divisions and propelled forward under the umbrella of the Emirates Group.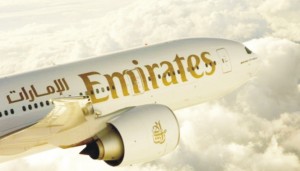 The impressive portfolio includes Dubai's household name of dnata, the successful supplier of air travel services, and many other entities, such as Emirates SkyCargo, Emirates Hotels & Resorts, Skywards and Emirates Aviation College. In all, there are more than 40 brands, employing 56,768 people.
In the 2010/11 financial year, The Emirates Group has marked its 25th consecutive year of profit with a record performance of AED 5.9 billion (US$ 1.6 billion) net profit, despite a challenging business climate. Wholly-owned by the government of Dubai, Emirates is often asked about the secret of its success. A passion to be the very best, innovation, a strong management team and astute cost consciousness are amongst the factors that have played an important role.
This approach has led to an array of product offerings such as the extremely popular onboard ice system, loaded with hundreds of entertainment channels on demand, and a host of industry firsts. In March 2008, Emirates announced it was the first airline in the world to enable passengers to make authorised onboard mobile phone calls a mile in the sky.
Sometimes rivals have accused Emirates of receiving subsidies. We wish that was the case, but the carrier receives no financial assistance from the government of Dubai and is subject to the same market forces as those who stand in awe. Despite this, and jostling in arguably the most competitive industry in the world, Emirates has enjoyed double digit profits for the past 23-odd years.
All Emirates' frontline facilities, including the massive Emirates Engineering Centre are now equipped to handle the Airbus A380, 71 of which are on order. The airline's total order book numbers 241 aircraft valued at over 84 billion US dollars – not bad for an airline that began with two leased aircraft – a Boeing 737 and an Airbus 300 B4.
We will continue to weave high quality training into the fabric of this potent brand and lead with indomitable energy and vision. We realise the world has grown to expect it.