Donald Trump's election as the President of the United States came as a surprise both to American voters and millions across the globe. In the age of viral marketing, companies are trying to cash in on all breaking news, airlines being no exception.
AeroTime presents a compilation of the most creative ads that have been inspired by the 2016 US presidential election.
Ryanair is known for creative marketing, using everything from Brexit to sacked football coaches in their campaigns. In the case of the 2016 US presidential election, the Irish LCC managed to mock both Trump and Clinton.
One of the most controversial statements that came from Trump this year was his proposal to ban Muslims from entering the US. Royal Jordanian Airlines took a swipe at the newly elected US President with an ad, suggesting Muslim travelers to book tickets while they're still allowed to travel to the States.
On Election Night so many concerned US citizens tried to enter Canada's immigration website that it went under the unexpected traffic load. Here is an Air Canada ad that was actually published in June, when the "How can I move to Canada" searches saw a staggering increase.
Europe is another destination that was searched by many prior and after the election. Iceland's WOW air found a way to attract more customers with extremely low fares for one-way tickets across the pond.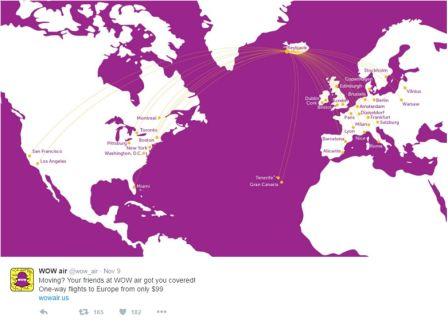 Many celebrities, including Cher, Barbra Streisand, Samuel L. Jackson and Miley Cyrus pledged to leave the US if Trump won.
Tennessee-based LCC Jones Airways took a jab at dozens of celebrities by offering them free airplane rides to Canada.