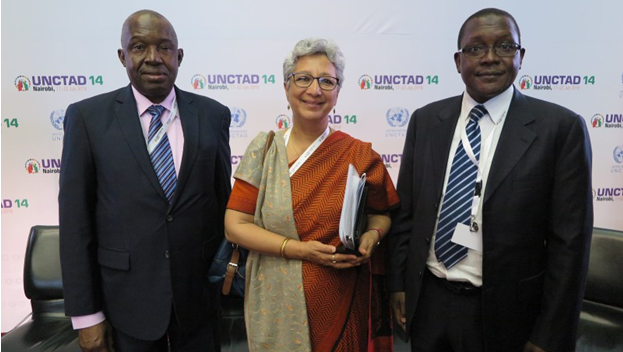 Mr. Wali is attending the UNCTAD 14 in his capacity as the Honorary President of the Global Network of Export-Import Banks and Development Finance Institutions (G-NEXID) which leadership he took over in April 2016 following the removal of Mr. Roberts Orya.
Mr. Bashir Wali, acting Managing Director/CEO, Nigerian Export Import Bank (NEXIM) is one of the global development finance experts attending the UNCTAD 14 conference in Nairobi, Kenya.
Wali, who is also the Honorary President of the Global Network of Export-Import Banks and Development Institutions [G-NEXID] is scheduled to network with other development finance professionals to seek ways of delivering access to finance for businesses in their home countries for sustainable economic growth.
President Uhuru Kenyatta who opened the conference tasked Development Finance Institutions [DFI] to consider the strategic importance and needs of Africa in developing finance mechanisms for development. He urged the participants to pay special attention to African economic issues such as trade promotion, sustainable development and development of natural resources.
The UNCTAD 14 conference is meant to address such global development challenges as investment agreements, economic capacity in least developed economies of the world, green economy, settlement of trade disputes and investment in Information Technology [IT] etc.
Recently, NEXIM under the leadership of Wali unveiled the N500 billion non-oil Export Stimulation Facility (ESF) and N50 billion expansion of the Rediscounting and Refinancing Facilities (RRF) to boost the non-oil export sector in Nigeria.
Wali said at the event in Lagos that the ESF and expansion of the RRF falls in line with the diversification policy of the federal government and will spur non-oil export growth, assist in economic development and create jobs in the country.
NEXIM is the official trade development agency of Nigeria and has over the years, provided export credit guarantees and export credit insurance facilities to non-oil exporters as well as exporters generally.
It has also supported the growth of the creative industry in Nigeria.