The banking entity was officially proclaimed DEAD by the Central Bank of Nigeria (CBN) in 2009. It was a mysterious and painful demise. But the soul of the bank has refused to Rest-in-Peace. Today, the living dead skeleton of the bank are rumbling in the belly of Access Bank Plc, fueling ghostly imaginations of resurrection or reincarnation.
The Early Years
Intercontinental Bank Plc was born in 1989 to the family of Dr. Erastus Akingbola.
Early in life, the young bank exhibited elements of excellence, profitability and leadership in the banking sector.
And when the whistle was blown on Banking Consolidation in 2005, the bank merged seamlessly with three other banking institutions: Equity Bank of Nigeria, Gateway Bank and Global Bank in October of that year. Naturally, the merging process made it bigger in terms of size, branch network, customer base and profitability.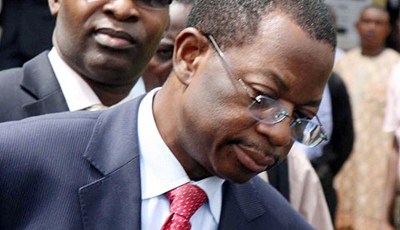 In Africa, it is an ancient tradition for a responsible child to give birth to other children to continue the generational lineage. The bank did not fail the traditional procreation test.
In the course of its earthly journey as an adult, Intercontinental Bank Plc successfully procreated and reproduced 10 off-springs namely:
• Intercontinental Securities
• Intercontinental Bank Ghana
• Intercontinental Finance & Investments Limited
• Intercontinental United Kingdom
• Intercontinental Homes savings and Loans Limited
• Intercontinental Registrars Limited
• Intercontinental Capital Markets Limited
• Intercontinental WAPIC Insurance
• Intercontinental Properties Limited
• Intercontinental Trustees Limited
And it was not lacking in wealth either.
As at August 2008, the bank had total asset base of N1.7 trillion, balance sheet size of N1.6 billion, paid-up capital of N230 billion, 330 branches across Nigeria, 10 subsidiaries and 12, 000 work-force.
In the same period, the bank's loan-to-deposit ratio stood at 60 per cent while its cash and money market instruments came to 40 per cent of total assets. A solid financial chest indeed!
And the ratings and awards came naturally.
By December 2008, Standard & Poor's (S&P), a leading international rating agency assigned ngA+/ngA-1 long and short term to Intercontinental Bank Plc, in addition to BB-, one of the highest ratings for any Nigerian bank then, even as the country's sovereign rating at that time also came to BB-.
Mr. Mathew Pirnie, Credit Analyst at S&P capped the position of the bank thus:
"Intercontinental Bank is a Tier 1 Nigerian bank with good presence in the high-end corporate, commercial, public and retail sectors. It was the first bank to reach the Nigerian Naira 1 trillion deposit mark due to a strong retail deposit portfolio."
The bank also smiled to the Bank as 'Bank of the Year' and African Bank of the Year' via proclamations by various influential international bodies; not counting similar accolades at home.
And Death Came!
It is often said that a child destined to die will surely die, even at adulthood!
For Intercontinental Bank, the Scent of Death began hovering around it in 2008 when the global financial meltdown emerged from the clouds, creating panic in financial institutions worldwide.
Suddenly, otherwise credit worthy individuals and blue-chip firms could no longer honour their contractual obligations to the bankers, creating in the process, a mountain of non-performing loans and the attendant liquidity squeeze.
By late December 2008 and January 2009, the market was abuzz with speculations that 'certain' banks were in deep financial stress that could lead to not only default on customer obligations, but severe cardiac arrest and possibly, death. The market buzz went with a romantic title of De-marketing.
Unfortunately, Intercontinental Bank was one of the victims of the 'Did You Hear' tales in the market.
It did not take a century before accusing fingers were pointed at a prominent bank in the industry as being behind the de-marketing travails of Intercontinental Bank.
And when the regime of Professor Chukwuma Soludo ended in June 2009, and Mallam Sanusi Lamido Sanusi came to power at the CBN, the fate of Intercontinental Bank was sealed like plastered envelope.
Not long after, the hammer fell on Intercontinental Bank Plc and other victims: Afribank, Oceanic Bank, BankPHB, Finbank, Spring Bank and Union Bank.
There was earthquake in the market!
Welcome Hurricane Sanusi!
Cause of Death
In Africa, few believe in natural death.
Somebody, somewhere must have a hand in the death of somebody-it just can't be natural-so goes the age-long belief.
And so it was with Intercontinental Bank. The allegations of behind-the-scene conspiracy blew open like punctured balloon. They said they will kill the bank and they did it became the mantra.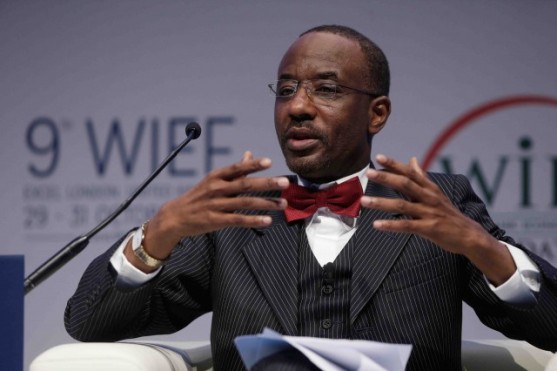 Indeed, much allusion was made of the Vanguard newspaper edition of that same period where the alleged conspirators plotted the demise of the bank to get even with Erastus Akingbola.
But what was the official medical cause of death? As expected, the regulator-undertaker listed the terminal ailments that killed Intercontinental Bank Plc as: Huge Non-performing Loans, Severe Liquidity Squeeze, Poor Corporate Governance and N400 billion Negative Capital-a dreadful list of life-threatening diseases indeed.
And the solution?-immediate sack of the Board and Management of the bank and injection N620 billion into the eight rescued banks to keep them afloat pending the arrival of life-saving ambulances.
Enter Access Bank
And the life-saving ambulance that came for Intercontinental Bank in 2011 had the inscription 'Access Bank Plc' on it. The dead or near dead has no choice of ambulance.
The Access Bank Ambulance took Intercontinental Bank away to its final resting place.
Unfortunately for Access Bank, the presumed or declared dead body in its belly has stubbornly refused to die fully and Rest-in-Peace.
Firstly, there were allegations of under-hand tactics in the acquisition of Intercontinental Bank by Access Bank, especially in relation to non-performing loan of N16, 247, 686, 168. 18 billion (See Table-3) in the balance sheet of Intercontinental Bank Plc as at May 31, 2009 standing against MR. AIG IMOUKHUEDE and MR. HERBERT WIGWE of United Alliance Company of Nigeria.
It is instructive that both gentlemen were then Group Managing Director and Deputy Managing Director of Access Bank Plc respectively.
And analysts in the market were asking: how come that these gentlemen that were allegedly indebted to Intercontinental Bank to the tune of N16. 2 billion as at May 31, 2009 suddenly metamorphosed as immediate acquirers of the same Intercontinental Bank a month later? Was it a classic case of robust financial engineering or mischievous regulator-operator connivance?
Black questions waiting for white answers!
As the allegations continued to fly like birds in the air, Access Bank mounted the witness box thus:
"We have shown very strong skills as far as merger and acquisition is concerned. People would wonder why this is relevant. In 2009, during the financial crisis, one of the things that led us to do what we did in Intercontinental Bank was the fact that, if we left the market to continue in the manner in which it was going to happen, and to have such a significant enterprise collapse, it would have meant so much to depositors…because it means that people would have been queuing up behind the Nigeria Deposit Insurance Corporation for five to ten years after only to collect their deposit. But we felt that we have to do it to support the market in which we do business but more importantly as Nigerians, we felt if we did it right, we are going to help our own country, even though we too would have benefited from it, but we would have had a lot more to lose if anything had gone wrong."
That was the voice of Mr. Herbert Wigwe, Group Managing Director/CEO, Access Bank Plc in late September 2013 justifying the take-over of Intercontinental Bank Plc by Access Bank Plc.
Prospect of Resurrection?
Resurrection or reincarnation is real or unreal depending on your faith.
Indeed, one Holy Book proclaims that 'after death, judgement follows.'
But for Intercontinental Bank, it seems resurrection may follow its death, not judgement, if the sorcerers read their magic balls correctly.
To follow through the dream, Akingbola sent a petition to The Presidency in late March 2014, seeking a review of the take over and acquisition of his bank under then suspended Lamido Sanusi era.
Indeed, the Financial Reporting Council of Nigeria (FRC) did invite Akingbola, Sanusi, Aigboje Aig-Imoukhuede, Herbert Wigwe for a chat the market is still waiting to hear its fruits.
Then at the same period (late March 2014) according to media reports, a group of shareholders of Intercontinental Bank Plc approached a Federal High Court in Abuja to seek the sum of N10 billion as damages from Sanusi over alleged fraudulent banking practices in the sale of Intercontinental Bank to Access Bank Plc.
The plaintiffs, Abdullahi Sani, Adaeze Onwuegbusi and Chijioke Ezeikpe, in the suit filed by their counsel, Chris Uche (SAN), expressly accused Sanusi of conniving with Mr. Aigboje Aig-Imokhuede, Mr. Herbert Wigwe and Senator Bukola Saraki, to sell the bank in a criminal bid to enrich themselves.
The shareholders equally pleaded with the court to order the CBN to quickly recover the sums of N16.2 billion and N8.9 billion, in addition to accrued interests, owed Intercontinental Bank by Aig-Imokhuede, Wigwe and Saraki.
They also requested the court to declare that the acquisition of Intercontinental Bank by Access Bank through the backing of Sanusi "without any lawful justification whatsoever in a bid to confer corrupt advantage upon himself and his friends/associates/cronies" was illegal, null and void.
Finally, they prayed the court to order the Securities & Exchange Commission (SEC) to conduct a comprehensive public enquiry into the mysterious acquisition on Intercontinental Bank by Access Bank through the CBN.
And by first quarter of 2015, the market is still asking: will these Akingbola/Shareholder efforts result in the resurrection of Intercontinental Bank or are they mere public relation stunts for the media and public?
Today, everyday is a waiting game for the dead to arise or remain a ghost.
The Akingbola Burden
Erastus Akingbola is a frustrated and desperate man!
Yes-frustrated over the loss of his precious jewel of inestimable value and desperate to clear his hard earned reputation rubbished in dust and reclaim his cash cow.
But his biggest challenge is the recovery of Intercontinental Bank from the jaws of Access Bank-a herculean undertaking or rather, more like malaria-induced fantasy dream.
Yes-he has the desire to reclaim his bank; Yes-some vociferous shareholders are standing by him; Yes-some ardent lovers of the Intercontinental Bank Brand are praying fervently for a miracle-but these are not enough.
To achieve this dream, Akingbola must swim across five shark-and crocodile infested oceans to establish:
• That he was wrongly sacked and prosecuted by the CBN and EFCC respectively
• That he managed the bank professionally and competently
• That the bank was financially healthy and sound at the time it was taken over by the CBN
• That the acquisition of Intercontinental Bank by Access Bank was fraudulent and criminal
• That the return of the bank to him would be fair and just to other interested parties on the issue
Already, his public image has taken a severe beating from a catalogue of related matters that might just scuttle the resurrection dream. These related matters include:
• A London High Court judgement in 2012 that ordered him to pay the sum of £654 million to Access Bank for alleged sharp and fraudulent practices while in charge of Intercontinental Bank.
• Multiple cases of theft/fraud preferred against him by the EFCC in Nigeria
• The conviction of Cecilia Ibru of Oceanic Bank which somehow justified the CBN action(at least one of them was legally convicted)
Again, he must contend also with three other fundamental scenarios in the dreamt resurrection process:
• Will the CBN reverse itself on the matter even with change of regime (Sanusi to Emefiele)
• To what extent will Access Bank go to protect and keep its prized acquired asset or hand it back to him
• Can Akingbola sincerely rely on the Nigerian judicial system to offer him the kind of justice he yearns for?
Navigating through these landmines in a Court of Law and Court of Public Opinion will not be a walk in the park for Akingbola.
But for his dead enterprise to rise again, he has no choice but to scale these hurdles or let the dead remain where it is resting presently.
Final Salute
What is the final salute to a dead bank?
May the unlucky and weeping ghost of Intercontinental Bank Plc find peace and cease haunting the living-lest the elders invoke the oracle, reel out incantations and offer blood sacrifice to permanently subdue its restless spirit.
Intercontinental Bank Plc: Rest-in-Perfect-Access-Peace!