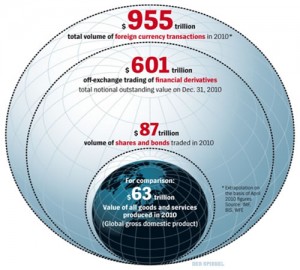 The Global Financial Industry
The global financial services industry is expected to spend just over one trillion dollars over the next five years on telecommunications services and equipment, says a new market analysis report from The Insight Research Corporation.
According to the new market study, spending on telecommunications by Wall Street companies, banks, insurance companies and others in the global financial sector is expected increase at compounded rate of 9.9 percent, growing from $135 billion in 2012 to $217 billion in 2017.
"Telecom and the Financial Services Industry: Optical Networking, Wireless Networking, and the Role of Redundancy and Recovery in Financial Transactions, 2013-2017" notes that the financial ecosystem encompasses a broad range of applications, from simple smartphone mobile transactions to complex international financial trading networks.
This sector is made up of Wall Street investment companies, banks, insurance companies, and other financial institutions that have been at the forefront in pushing for the development of telecommunications systems and practices that ensure accuracy, reliability, and security.
"It is difficult to over-estimate the impact that the financial services sector has had on the telecom industry, since this is the sector that has always been ready to spend to get the best," says Insight Research President Robert Rosenberg.
"This sector consumes practically everything that telecom companies can offer, including: hardware, applications, connectivity, managed services, hosting services, disaster recovery, security management, backup and storage management, storage area networks—not to mention their huge appetite for wireless and wireline connectivity. The financial sector is global and fully interconnected, and that shows up on the bottom line of the carriers in a big, big way," Rosenberg concluded.