*909# Mobile Money on the Move!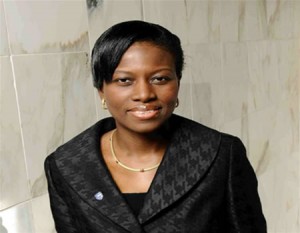 Mrs. Sola David-Borha
CEO, Stanbic-IBTC Bank Plc
Stanbic IBTC Bank commemorated the first anniversary of its *909# mobile money service, reiterating its commitment to continuously deliver innovative products and solutions, part of which includes enhancing the robustness of its mobile banking and mobile payments systems.
The bank was one of the first organizations licensed by the Central Bank of Nigeria in October last year to operate mobile money services in Nigeria in accordance with the Mobile Payments Regulatory Framework.
At the event in Lagos, which was attended by stakeholders from the banking, retail and telecoms sectors, the Chief Executive Officer of Stanbic IBTC Holdings Plc, Mrs. Sola David-Borha, recalled that Stanbic IBTC Bank had since 2009 shown commitment to technology-driven branchless banking and enthusiastically embraced the Central Bank of Nigeria's drive towards an increasingly cashless economy.
David-Borha said the organization's decision to launch the *909# Stanbic IBTC Mobile Money solution last year was underscored by the bank's strategic focus of strengthening its universal banking franchise by integrating Nigeria's huge informal economy, which is characterized by unbanked small scale farmers, traders, craftsmen and other types of small and medium sized businesses, into the formal economy, and in the process enhance financial inclusion in Nigeria.
She described mobile money as a game changer which apart from enabling customers to conduct basic financial transactions such as mobile money account opening, buying airtime, deposit and receipt of cash, as well as payment of utility bills through their mobile phones, also offers
enormous benefits to the Nigerian economy by channeling the huge funds in the informal sector through the banking system to engender economic development.
Obinnia Abajue, Executive Director, Personal and Business Banking at Stanbic IBTC Bank, said it was in recognition of the need for market-driven partnerships and alliances with the different
stakeholders in the mobile money value chain, that the bank went into partnerships with all the four major telecom operators in Nigeria, enabling mobile payment services to take root, proliferate, and scale up across the country.
According to Abajue, Stanbic IBTC has recorded significant milestones with mobile money. To date, *909# Stanbic IBTC mobile money has over 600,000 registered customers, over 790 agents nationwide and there have been over 7.7 million agent airtime transactions and a total monthly transaction value of N1.3 billion.
A mobile wallet can be funded through; a mobile money agent, at any Stanbic IBTC Bank branch, any ATM, person to person transfer, and online through the web, internet banking and through Quickteller, Abajue said.
Stanbic IBTC recently won the Nigerian Financial Technology Award (NFTA) for the best use of IT in mobile money services.