Today is a great opportunity for discerning investors to invest in SWISS GOLDEN business for great return on investment.
First, it is important to state clearly that SWISS GOLDEN is not a MONEY DOUBLING SCHEME, PONZI or a SCAM.
SWISS GOLDEN is a gold trading company that deals with the sale of 24 carat gold bars, which ultimately means security of investment.
Swiss Golden is a secure investment in GOLD with a guarantee of buy-back option by the company at any given time the investor decides to off-load his/her Gold investment.
Gold does not expire.
Registration takes less than 5 minutes, with just 4 easy steps:
https://swissgoldenfog.com/how -to-register-a-new-swiss-golden-account/
There are different levels you can also register with as it is your choice to decide on your level of investment: https://swissgoldenfog.com/you -can-also-start-with-170000/
HOW ARE WE DIFFERENT?
First, we have built a very strong team and structure that ensures that every investor is kept abreast of any development in the course of the process. More importantly, we work one-on-one with every investor to ensure he/she enjoys robust return on investment.
You can also click this link to see how we can help you: https://swissgoldenfog.com/see -how-we-can-help-you/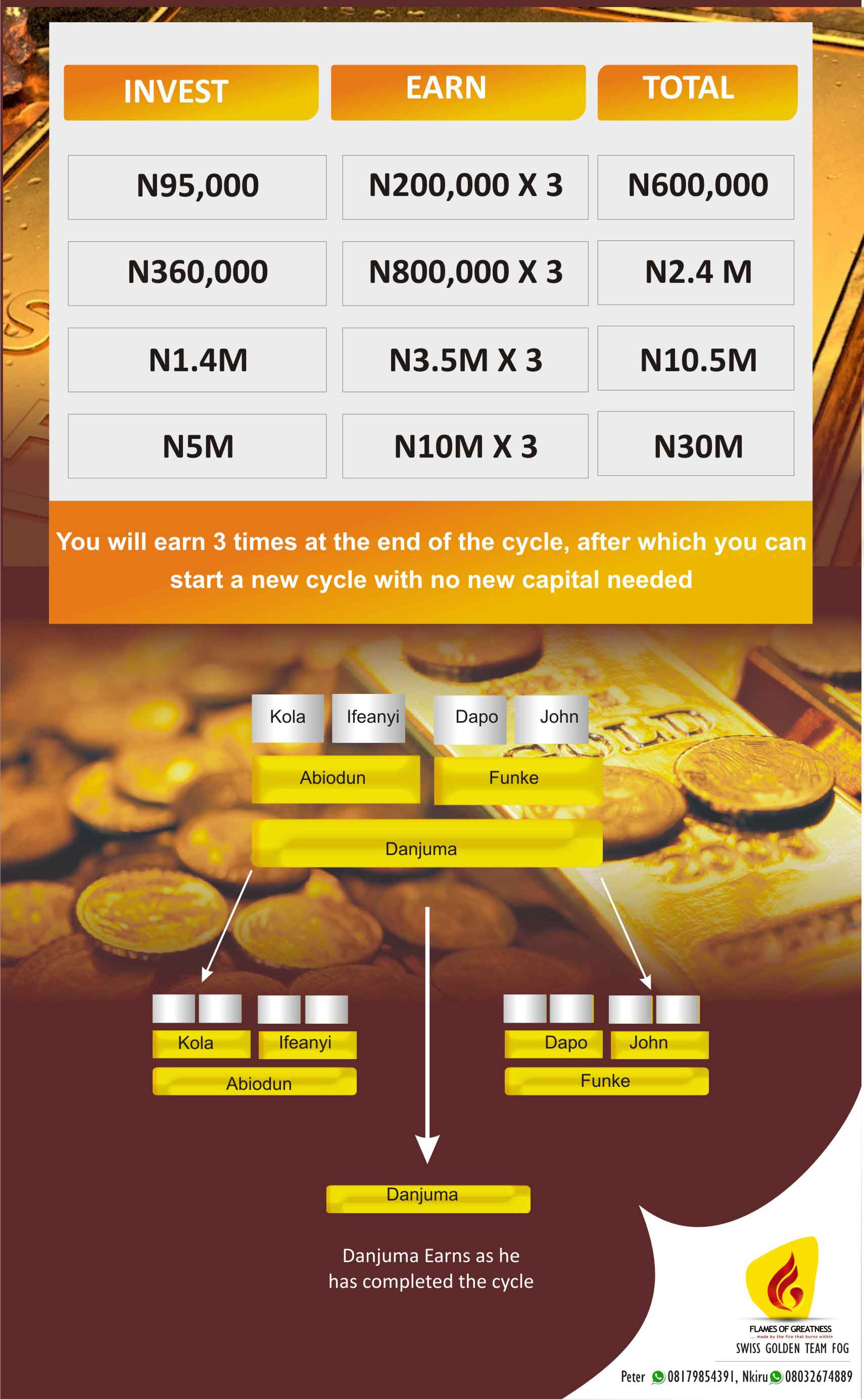 SWISS GOLDEN is a big business opportunity for discerning investors.
If you're ready to make this bold step, simply CONTACT US TODAY (Call or whatsapp)
+234 8179854391  or  +234 8032674889 
Click this link to download a video that explains how swiss Golden works: https://swissgoldenfog.com/download-video/
Like Our Facebook Page: https://web.facebook.com/swiss goldenfog/
Subscribe to our You tube Channel:  https://youtu.be/rSQGz6_UiOw

Seminars
We also hold seminars twice a month on Saturdays at our office below:
123/125, Milaco Plaza, Adjacent Diamond Bank by last bus-stop,
Ago Palace Way
Okota, Lagos.