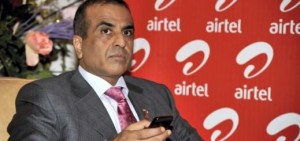 Sunil Bharti Mittal
Chairman/Group CEO
Bharti Airtel
India's Bharti Airtel has reported a 72% fall in its third-fiscal quarter financial results for the three months to the end of last December.
The company saw net income fall to RS 2.84 billion (US$53 million) from Rs 10.11 billion a year ago as the company was hurt by foreign exchange losses and an acquisition in Africa.
This is the third year of consecutive declines in quarterly profits for the company.
Revenues however rose by 10 percent to Rs 202.4 billion boosted by a rise of 70% in mobile data usage.
"Market conditions have been challenging in recent quarters due to pricing pressures and rising input costs, which have put enormous pressure on the sector and consequently profit margins," Bharti Airtel Chairman and Managing Director Sunil Bharti Mittal said in the accompanying statement.
"However, the worst seems to be getting over, with corrections taking place in customer acquisition practices and the tariffs", he added.
The company ended last year with 262 million customers across its markets in India, Africa and Asia.