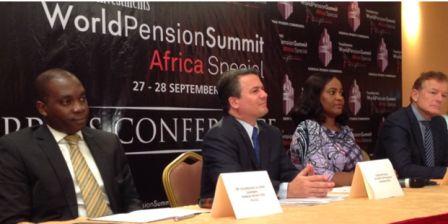 The National Pension Commission [PenCom] and the Economic and Financial Crimes Commission [EFCC} are now working together to identify and deal with all cases of non-remittance of pension funds after deductions by organisations in the public and private sectors of the economy.
Mrs. Chinelo Anohu-Amazu, Director-General, National Pension Commission, who described non-remittance of deducted pension funds as criminal, said the collaboration with the EFCC is meant to immediately stop the trend and support PenCom to enforce the relevant pension laws. She added that the PenCom-EFCC is proceeding very well because the Commission has full control of the data on such non-remittances across the board.
The PenCom DG also reiterated her earlier stand that the N5.7 trillion pension assets as at June 2O16 is not sitting idle somewhere for disbursement but has been actively invested in various instruments in accordance with pension laws.
"Indeed, the steady growth of pension funds seems to suggest that funds are lying idle somewhere. But more public awareness and understanding is on-going to properly educate people on this. We need to increase the pace of such awareness going forward."
She said PenCom has already established a new department on micro-pension to ensure direct active engagement with people in the informal sector just as the Commission is gathering accurate data to help with policy formulation and subsequent implementation.
Anohu-Amazu, who addressed a World Press Conference on the up-coming 3rd World Pension Summit [Africa Special] on September 27-28 in Abuja, said the summit provides a unique opportunity to improve the sector and derive appropriate channels of investment that leverages Nigeria's fast growing pension funds for real sector development.
"The theme of this year's summit-'Pension Innovations: The African Perspective' has been carefully chosen as PenCom seeks to drive into greater prominence, the revolutionary strides and achievements of African governments in the area of pensions and social benefits. PenCom also seeks to galvanise not only the Nigerian pension system but also those of other African countries towards sustainability and socio-economic impact."
She said the themes of the two previous summits were selected based on the need to lay a solid foundation for the establishment of enduring pension systems in Africa and chart ways for effectively channeling the pension funds to sustainable investments such as railways, power, agriculture and real estate. This would serve as a catalyst to actively stimulate economic development across countries in Africa.
Some of the plenary sessions for the summit include:
Regional Reports: Revolutionary Strides in Pensions by African Countries
Emerging Insurer Role
The Dynamics of Pension Investments
Financial Inclusion
Pension Distribution: The Impact of Technology
Actuarial Issues and Their Impact on Pension Benefits
A major part of the summit would the 2nd Africa Pension Awards [APA] to recognise excellence, achievement and commitment to the development and strengthening of the African pension industry, in order to entrench good and innovative practices in pension administration.
"The 3rd edition of the World Pension Summit [Africa Special] promises to harness African talents in pensions and other support services such as investments, insurance and actuarial valuations. Indeed, the summit would provide a platform for pension regulators and operators in Africa to make positive contributions in ushering in a new dawn of innovations in pension administration."