Insurers must bridge the communication gap that exists between them and the insuring public for insurance penetration to increase in Nigeria.
This was the submission of Mr. Tunde Adeoye from the Lagos Mainland CDA. He said this during the Open Forum at the just concluded 2017 Almond Insurance Consumers' Forum in Lagos.
The annual Insurance Consumers' Forum, organised by Almond Productions Limited provides a platform for interaction between stakeholders in the insurance industry and the insuring public in a No-Holds-Barred atmosphere.
The forum this year with the theme: Insurance Penetration in Nigeria: Shifting Focus from Policies to Providing Value for the Customers was chaired by the former Group Managing Director, Royal Exchange Plc Mr. Chike Mokwunye while the Guest Speaker was Prof. Festus Epetimehin, first Professor of Insurance and Risk Management in Nigeria.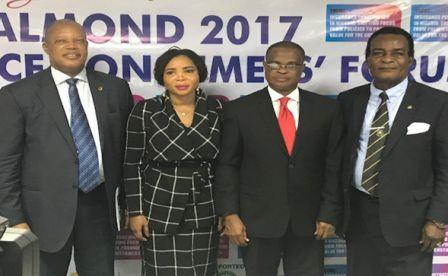 Speaking during his presentation on the theme of the forum, Prof. Epetimehin said that the practitioners are themselves responsible for the 'No demand state of insurance by the public because they have not embraced any pragmatic marketing approach. Insurance according to him should be aggressively marketed. The present marketing mix of most insurance companies does not reflect that.' This he said indicates that there is lack of innovation in product development and risk taking, narrow product lines, unscientific methods of premium determination, policy wordings that is meaningless to the consumers and shoddy survey leading to insufficient information. This entirely sums up the fact that the industry is not responsive to consumers needs.
In his welcome remarks, the chairman of the occasion, Mr. Mokwunye noted that for the insurance industry to take its rightful place in the economy, the regulator (NAICOM) must see themselves as developmental partners against the current practice of policing the industry and operators seen as offenders that must be arrested.
The 2017 Insurance Consumers Forum which began in 2013 was well attended by both corporate and individual customers from various sectors of the economy.