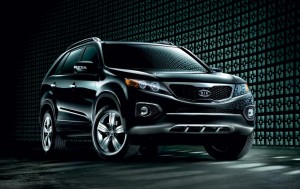 KIA Sorento
Kia Motors Corporation has announced that its global sales for passenger cars (export sales, domestic sales and sales from overseas plants), recreational vehicles (RVs) and commercial vehicles for 2012 reached an all-time high of 2,710,017 units, reinforcing Kia's position as one of the world's fastest growing automakers. This figure represents an annual year-on-year increase of 9.3% and marks the first time in the company's history that it has eclipsed the 2.7 million unit sales mark.
By region, Kia posted year-on-year sales growth in Europe* (571,033 units, a 19.5% year-on-year increase), North America (635,399 units sold, a 15.4% year-on-year increase), China (512,167 units, an 11% year-on-year increase), and general markets** (509,358 units sold, a 2.7% year-on-year increase). Kia posted sales of 482,060 units in its home market of Korea for a 2.2% year-on-year decrease.
For the month of December 2012, sales growth was achieved in Europe (42,367 units, a 15.8% year-on-year increase)*, China (53,211 units, a 12.9% year-on-year increase), and Korea (46,514 units, a 3.2% year-on-year increase).
Kia's bestselling model in overseas markets in 2012 was the B-segment Rio with 466,826 units sold. Kia's Sportage compact CUV and C-segment Cerato (known as 'Forte' in some markets) followed with 359,742 and 352,226 units sold, respectively. The Optima mid-size sedan came in fourth with 259,551 units sold, while the Sorento SUV rounded out the top five with 219,154 units sold.
Notable company milestones in 2012 included the start of construction on Kia's third China plant with a 300,000-unit annual capacity; and two company firsts – entering the ranks of InterBrand's 'Top 100 Best Global Brands' and launching the all-new Kia Quoris luxury flagship sedan.
The second generation and European exclusive C-segment Kia cee'd was launched earlier in the year and made its premier at the Geneva Motor Show. Additionally, the all-new Cerato (Forte) C-segment and the Carens compact MPV, which both premiered at international motor shows in 2012.
Thomas Oh, Executive Vice President & COO of Kia Motors Corp., said:
"The year 2012 was another period of significant milestones for the Kia brand, and our ongoing product offensive will continue in 2013 with the start of production of eight next generation, upgraded or body style variants, including the all-new Carens and Soul as well as refreshed versions of the Optima, Sportage and Rio. Given the difficult global market environment expected in 2013, we at Kia will embark on a new era of qualitative growth in all areas of the business to prepare ourselves for a new wave of sales expansion in the coming years."