Business Failure refers to a company ceasing operations following its inability to make a profit or to bring in enough revenue to cover its expenses. A profitable business can fail if it does not generate adequate cash flow to meet expenses.
It is often said that more than half of new businesses fail during the first year of their establishment whilst others fail later.
I am constrained to write on the topic in this edition so that entrepreneurs will be wary of why businesses fail.
Reasons for Failure
Actually, there are so many reasons/factors why businesses fail. In his book entitled; Small Business Management, Ames gave us the following reasons for small business failure: Lack of experience, insufficient capital (money), poor location, poor inventory management, over-investment in fixed assets, poor credit arrangement management, personal use of business funds and unexpected growth.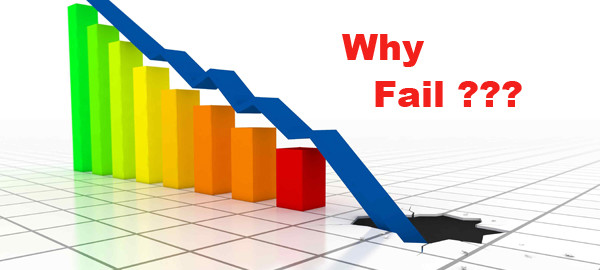 Gustau Berle in the book, Do it Yourself Business added two more reasons why businesses fail and named them as Competition and Low sales.
Others reasons are; wars, recessions, high taxation, double taxation, high interest rate, excessive regulations, poor management decisions, insufficient marketing, inability to compete with similar businesses or a lack of interest from the public in the business offerings, lack of training, lack of self discipline, lack of focus, inability to adjust to prevailing conditions or circumstances, poor risk identification and complacency.
Some businesses may choose to shut down prior to an expected failure whilst others may continue to operate until they are forced to shut down.
A study published in 2014 by the Turnaround Management Society reveals that most crises are caused by the mistakes of top management. If the strategy of the top management did not work as expected, it may affect the corporate existence of the business as a going concern.
There are many opinions about the most important reason why businesses fail.
Peter Drunker claimed that the most important reason why businesses fail is because management did not ask ''what is our business?'' in a ''clear and sharp form.''
Eric T. Wagner, who has 30 years of experience as a serial entrepreneur says that entrepreneurs fail when developing new products because they ''retreat to a cave'' instead of thoroughly understanding their customers' needs.
After a business might have shut down, the business may be dissolved and have its assets re-distributed after filing the necessary returns with Corporate Affairs Commission, Abuja.
However, some failing companies may be purchased by a new owner who may be able to run the company better and some are merged with another company that will then take over its operations. Some businesses save themselves through bankruptcy or bankruptcy protection thereby allowing them to restructure.
There is need for an entrepreneur to institutionalise his/her business. After all, in other climes, businesses outlive their founders but in Nigeria, the reverse is the case. Hence, the businesses often collapse or even fail outright before the demise of the founder.
The 50 Great Examples
In the 50 Companies that Shaped the World, a book written by Howard Rothman, no Nigerian company was mentioned in the said book. These are the companies that were institutionalised by their founders, not only that they have greatly contributed to the development of the world through state-of-the-art product development, superlative service delivery and they also employed a lot of people.
The 50 companies are; (Microsoft, AT&T, Ford, Apple, McDonald's, America Online, FedEx, CBS, Philip Morris, Wal Mart, General Electric, IBM, Sears Roebuck, General Motors, J.P. Morgan & Co., Union Pacific, RCA, Nike, Intel, CNN, Boeing, Hewlett-Packard, Standard Oil, Sony, USX-US Steel Group, Agence France Presse, Levitt & Sons, The Walt Disney Co., Netscape, Coco-Cola, Thyssen Krupp, Proctor & Gamble, Yahoo, Toyota, People Express, Manpower, Toys ''R'' Us, National Football League, Kellog, Johnson Publishing, Firestone Tire & Rubber, Avon Products, Hilton Hotels, Ben & Jerry's Homemade, Re/Max, Singer Sewing, Shore Bank Corp, Metro-Goldwyn-Mayer, L.L. Bean and H.J. Heinz).
The Challenge
What should pre-occupy your mind now is how you too can start or sustain your business so that it can also change the world in the foreseeable future. 'Nothing is impossible'. So take the Bull by the Horn and put in your very best.
The import of this write-up is to draw the attention of entrepreneurs to the dangers of business failure so that they can really understand how to weather the storm in a country such as Nigeria where there are a lot of uncertainties.
But with the 5Ps of success (Passion, Patience, Perseverance, Persistency and Prayer), an entrepreneur will record huge success.
Success shall be yours!
It is well!!!
By Muideen Adebayo Ibrahim, the Founder and CEO of LIBRA CONSULTING and can be reached via [email protected] or 08037221517 (sms only).