Abiona Babarinde, General Manager, Marketing & Corporate Communications, Coscharis Group presents the keys to a brand new Ford Ranger to Iyeh Kennedy, winner, The Next Titan Season 4.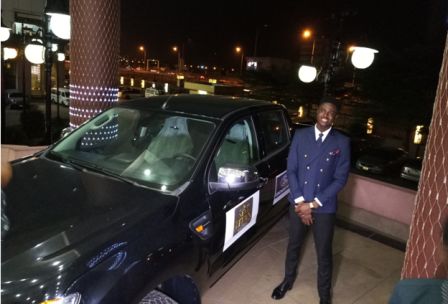 Iyeh Kennedy, winner, The Next Titan Season 4 stands next to his brand new Ford Ranger.
Ford Motor Company, in collaboration with its local distributor Coscharis Motors, is honoured to present a brand new Ford Ranger to Iyeh Kennedy, winner of the Next Titan, Season 4. The winner was announced on 10 December 2017.
"Ford and Coscharis Motors would like to take the opportunity to congratulate Iyeh Kennedy on his achievement," says Abiona Babarinde, GM Marketing, Coscharis Motors. "We are proud to be a sponsor of the Next Titan, and to hand over a Ford Ranger to the winner, to support his existing business." The 2.2 litre diesel XLT model 4×4 double cab is valued at N16 million.
The Next Titan is a good fit for the Ford brand, as business people with small and medium size enterprises (SMEs) are a significant client base for Ford in Nigeria. The Ranger nameplate, renowned for its outstanding Built Ford Tough capability, technology, convenience, and comfort, is the ideal vehicle for any entrepreneur, be it a tech CEO, farmer, IT business owner, fashion designer, media mogul, hotelier, or supermarket owner.
The Next Titan, the fourth season of which premiered on 8 October 2017, is a global standard television platform designed to educate young Nigerians about entrepreneurship, encouraging them to consider this as a career path, and helping to reduce the high rate of unemployment. Sixteen participants, between the ages of 21 and 39, challenged one another for 10 weeks in various business tasks, including strategy, sales, marketing, and promotions. During the competition, participants and viewers had the opportunity to interpret real-life entrepreneurial challenges through informal training, and to learn from top business leaders how to start or grow their own businesses.
"Coscharis Motors is grateful for the opportunity to collaborate with young, talented Nigerian entrepreneurs, and assist with their business objectives," says Babarinde. "We will continue to work together with Ford, to build on skills development and training in the country, not just in the automotive industry, but across the board in Nigeria."