Emirates added fun to the 2018 children's Day by bringing children together to watch a movie and have fun on the bill of the airline.
Mr. Afzal Parambil, Regional Manager, West Africa Commercial Operations said at the event: 'We can think of no better way to celebrate the special little travellers in our lives, than by bringing the joy of movies to life. Whether they are flying with family or alone, we ensure that Emirates' Little Travellers have a memorable time flying with us, so that the journey is as enjoyable as your destination.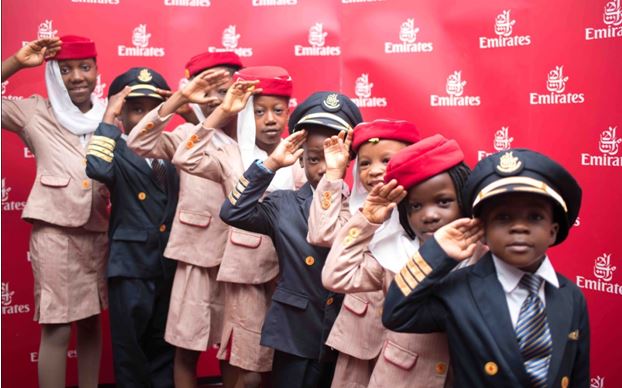 Always a great hit with children and families is our award-winning ice Digital Widescreen which has over 3,000 channels including 50 Disney Classic movies, a dedicated Marvel channel which with movies like Ant Man, Marvel's The Avengers and Iron Man. Additionally, we have 90 dedicated kids TV channels and around 100 video games for children. With specifically-dedicated channels for children on all flights, both youngsters and their parents can enjoy every minute of travel onboard.
So, in the spirit of celebrating children – we hope you enjoy Sherlock Gnomes to mark the start of summer and commemorate our in-flight experience for children.'